Station Marfa
Marfa, Texas
Program: Community Hub
2017
Many desert towns across the west coast of the United States are connected by the Amtrak Sunset Limited, a train line that runs from Los Angeles to New Orleans. Marfa, a small art town located in West Texas, is skipped on the Sunset Limited's route. Although the train has a stop in Alpine, Marfa's neighbor town just 26 miles east, some of the Marfa residents have pushed back against the town's integration of a train stop in hopes of preserving the town's isolatory qualities.

A closer investigation into the preservation of seclusion reveals divisions within the Marfa population itself. The 1,800 permanent residents are bound by the period of their arrivals. Original and recent residents have formed disparate communities, and interaction between the two groups is primarily based on the mutual support of the town's tourism industry. Station Marfa was born out of the investigation of inaccessibility. To whom is Marfa physically accessible? How does the town's geographical estrangement affect the community's social patterns?

Detailed program: train station, post office, artist residency, school of art, exhibition space, public market, public park

MDF: Scale: 1:100 - Length: 7'8" ft
Acrylic: Scales: 1:2000 - 1:1000 - 1:500
Station Marfa aims to foster both inter and intra-communal connections. As such, this project seeks to create a central train station and imagine it as an accessible community space. Kandinsky's Point and Line to Plane fed the imagining of Station Marfa. Marfa is a fixed point within the immensity of the Chihuahuan desert–the "plane." The railroad is the line–it serves to destroy the self-containment and inaccessibility of the point.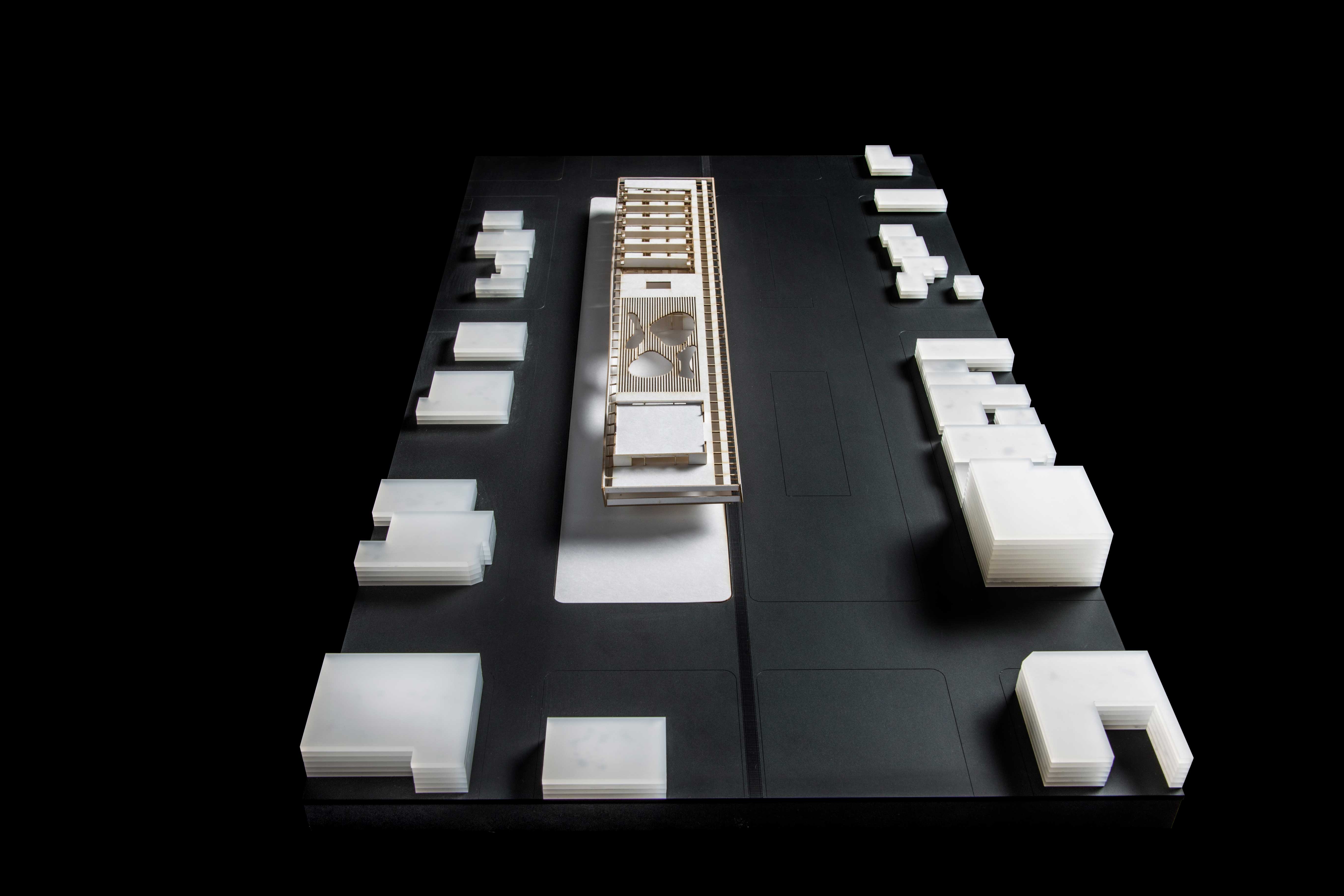 W
hile Donald Judd profoundly influenced the legacy of Marfa, his minimalistic style is not the most relatable to all viewers. Station Marfa honors Judd while simultaneously reimagining his design motifs in a more approachable manner. This adaptation is primarily evidenced in the project's use of repetition, a theme central to Judd's oeuvre. Station Marfa features six vertically oriented studios that serve as a co-working and co-living space for artist residencies. The forms are stacked against one another and feature a 5m/16ft beam framework. The repetition of the studios both underscores the individuality of each space and encourages a synergetic community among the artist residents.

Station Marfa also features an art school for the greater Marfa community. The school is physically connected to the six residency studios on the east side of the structure and invites artistic mentorship and collaboration. Additionally, Station Marfa allocates space for a public market and community garden in order to amplify local food vendors and create a gathering space for residents.
While Marfa centralizes art and design for its tourists, the permanent residents of the community deserve access to a space to foster their own artistic pursuits. Station Marfa hopes to connect the town to others in the American West while bridging racial and socioeconomic gaps within Marfa itself.